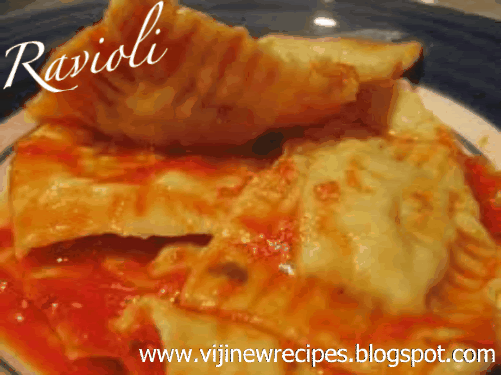 Ingredients
:
Filling
:
Roast meat or roast chicken - 1 cup
Spinach - 1/2 cup (cooked chopped)
Egg - 1
Grated Cheese - 2 tbsp
Salt and Pepper to taste
A pinch of grated nutmeg
one clove of garlic (crushed)
Mix these ingredients and make into marble-size balls.
Variation:
Boiled mutton brain can also be added to the above mixture. Clean the brain,. Simmer the brain in water to cover to which 1/2 tsp salt and 2 tsp, vinegar have been added; mash.
Method:
Place the filling balls on half the strips, 5 cm apart. Cover with the other half. Seal by pressing with fingertips along the dampened edges and between the mounds.
Cut apart into squares. Dry for 3 to 4 hours.
Poach for 20 to 30 minutes in salted water.
Place in baking dish. Spread some tomato sauce ( as for spaghetti) over it.
Dot with melted butter, sprinkle cheese and paprika on top.
Grill for 3 to 4 minutes till the cheese melts. Serve hot.