Walnut Cake -
Viji's
New Recipes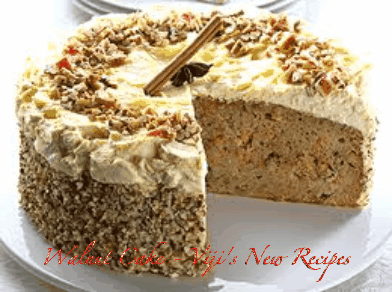 Ingredients:
Butter - 130 gm
Sugar - 185 gms
Flour (maida) - 220 gms
Chopped Walnut - 75 gms
Eggs - 3 no.
Baking Powder - 3/4 tsp
Salt - 3/4 tsp
Milk
Direction:
Cream the butter and sugar until light and fluffy, and gradually add the beaten eggs.
Put all the dry ingredients together and add them to the mixture.
Add the milk. Put into a prepare cake tin and bake in a fairly quick oven for about 1 1/4 hours. Ice all over.
For Pineapples Glace Icing:
Take small can of crushed pineapple strain off the juice and use instead of water.
Use pineapple pulp mixed well with Castor sugar, for pineapple filling.